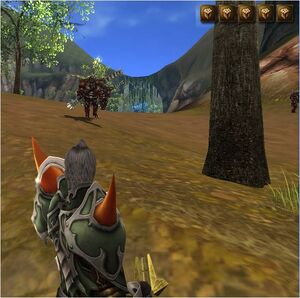 This is a notification function for displaying messages, alerts and updates on the screen.
Introduction
Notice refers to a function that indicates events such as the acquisition of a Bijou quest, transaction with another person, or the beginning of the Battle of Might with an icon. A notice icon appears on the upper right corner of the screen with a "ding-dong"sound.
List of features in the Notice Function
Normal Mail Notice
System Mail Notice
Bijou Quest NPC Conversation Notice
Reward Arrival Notice
Guild Notice
Battle Group Formation Notice
Level Up Notice
Commencement of Battle of Celebration Notice
Transaction Notice
How to Use
Notice Icon Location

The Notice icon is displayed on the bottom of the mini map, and upon selection of the relevant icon, the related function is displayed.
Use of Notice Function
When clicking on the displayed icon, a menu of items suitable for each function is displayed.
Ex - Bijou Quest (Automatically acquired Quest)
Display of Bijou Quest Notice Icon
Display of Relevant Quest Title & Details upon selection of icon
Acceptance and Progress of Quest
___________________________________________________________________________________________