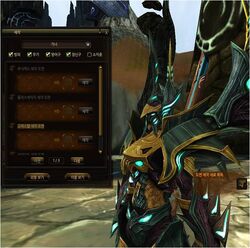 In Dragona, items are in various grades. The most remarkable item grade is "unique grade", and an item of this grade can only be obtained through a process called Crafting. To create an item, you need to use drawings and materials dropped from monsters higher than the named monster, or middle bosses.
Introduction
This is a system for creating unique items by Crafting items and materials from monsters. If you have all the materials, you can create the items wherever and whenever you want.
A unique item made through crafting has stats far surpassing other items. The crafting materials are dropped by monsters higher than the named monster or even a middle boss in a certain percentage of cases. The named monsters and middle bosses in Instance Dungeons where the foreshadowing stage is set higher will drop production materials in higher percentages.
How to Use
Order of Crafting

Crafting Method
Carry the items needed for item creation in the inventory.
Select shortcut (I) and then select the [Craft] button after activating the inventory window.
Once the crafting window is active, select [Start Crafting] and create an item.
After the effects for creation are shown, all the material items will be removed, and the created item is automatically moved and acquired in the inventory.
*Note: If there is not enough inventory space, items will be dropped around the character and its ownership will belong to the character who created it for a certain period of time.

___________________________________________________________________________________________